The history began in the earl 1980's. In 1986 Brett and Lyn Johnson moved to the USA, having been 'sent' from the church they had led in South Africa. Brett simultaneously worked at Price Waterhouse, having a tri-vocational career, as they consulted to missions organizations in South Africa, South America and Europe.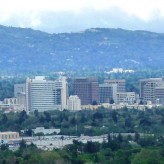 When the arrived in the US, the Johnson family began to explore the possibility of forming an organization that served at the intersection of business, church and missions. Having received the green light to proceed Brett sensed that they should wait five years, during which time he continued work with Price Waterhouse and later KPMG Peat Marwick. When in early 1992 Brett began planning to proceed with the launch of the new organization he met Ken, Rick and Milan Telian. They spent many hours brainstorming the new organization and decided to put it under the administrative and tax banner of Vine Associates.
In October 1992 Brett and Lyn gathered with a group of friends to pray into and "birth" the new organization. We traveled to the cabin of friends in Mendocino, Dave and Marcee Yager, and joined by Milan, Ken, Iain Muir (YWAM), Dave and Marcee Yager and our three kids, Fay, Jamie and Davey, we prayed, talked, tried to get focus… and brainstormed many names. We ended up with "Professional for Christ" or PFC. The original logo was a black and white rendition of our current logo. At the end of the weekend we reported back to our home church, San Mateo Presbyterian Church, and met with Denn Denning and key elders who prayed with us and gave us their blessing.
With the help of Ken, the Yagers, Rick and many others we began the work of profiling businesspeople and matching them with opportunities to serve missions organizations. We soon began monthly Entrepreneur evenings to equip business owners to integrate work and faith. We took trips to Hawaii and the Ukraine to encourage marketplace ministers and consult to missions. We also did a number of consulting assignments for local churches. Our first employee was Doug Addison who became a bi-vocational minister with us. When he moved on Cherith Nordling, daughter of renowned theologian Gordon Fee, joined our team.
When consulting to a local church we met Dr. Charlie Self, and he became a fast friend and is a board member of Vine today.
In time we changed the name of our small entity that operated under Vine Associates from PFC to equip as there was much debate what exactly a "professional" was and when Brett went to the Ukraine there were challenges with being openly religious. We kept the name equip for many years. One of the challenges we had, however, was that the volunteers we mobilized all had their own way of doing things. Brett was responsible for a project at KPMG that shaped and trained people on consulting methodologies; he knew that equip needed the same thing.
Over time CMUG and other entities operating under Vine Associates, Inc. moved on, and we remained as the only organization within Vine, so we took over the directorship and administration when Ken Spear moved to Florida.
Meanwhile Brett and Lyn had formed a company called The Institute for Innovation, Integration & Impact, Inc. It quickly developed the consulting frameworks needed to work with all forms of organizations, and was soon consulting to a wide range of businesses and non-profits. The activities of equip were quiet in this season, but Vine continued to provide periodic service to churches and mission organizations.
In 2001 Brett and Lyn met with an enthusiastic group who had started an organization called Silicon Valley Fellowship. A while later we met again with their leaders who included Corey Cleek, Bart Munro and Kim Daus. Their dream was to see a transformation in the way business was done in Silicon Valley. Bearing in mind that this was at the height of the dot.com era, we encouraged them to first be changed, then to become agents of change. Spontaneously I said, "Why don't I take you to Africa where you can see a more real view of business, and once you are transformed, you can come back and transform Silicon Valley." A year later I received a call from Corey Cleek: "We are ready to go to Africa," he said, and I replied, "First we will have to train you."
So in October 2002 The Institute began putting the training materials together for our first training which would begin in January 2003. By this stage Rebecca Muir had joined us from the U.K. She is the daughter of Iain Muir, who is a friend of about 30 years, and was out our founding weekend. The training materials were based largely on the methodologies and foundational principles of The Institute. From the outset we developed the training products in a manner that could scale or grow.
The teams that we took overseas were a combined effort of The Institute and Vine Associates, DBA as equip. The Institute contributed the training materials and expertise, and Vine handled the finances and was instrumental in mobilizing volunteers. Our first training began in January 2003. We trained 10 consultants and then traveled with them to Cape Town in April 2003 for our first Venture. At that time we announced that we would be back for 9 more Ventures in Cape Town—two a year—which is what we did.
In February 2006 we felt we needed someone on board to document and firm up our operations. Jodene Blackshaw, one of our Cape Town team, felt the same, and Vine applied for a religious worker visa for Jodene. She became an invaluable part of the team leading operations and training in Vine. She also led teams to Cape Town, Johannesburg and participated on teams to India and Indonesia.
In October 2006 we received a letter from an organization that had recently registered the name "equip" and, rather than object, we decided it was time to do two things: rename, and reposition. A decision was made, primarily for missiological purposes, to switch all of the external, customer facing work of what had previously been PFC and then equip into a division of The Institute called rēp. Vine and rēp now work closely together.